In this post we will see what is RBI Retail Direct Scheme, how to invest in RBI Bonds, how RBI Retail Direct Scheme works, whether you are eligible to invest in Government Securities, online portal link, Investment Markets for Bonds, Interest rates, Benefits and Risks of RBI Retail Direct Scheme
RBI Retail Direct Scheme was recently launched on 12th November 2021 by RBI in order to help people of India invest in Bonds and diversify their investments. Till date, a platform to aid in investing in bonds was missing. With the help of RBI Retail Direct Scheme, we will be able to invest in RBI bonds and Government Securities. The user is required to create a RDG Account – Retail Direct Gilt Account, that will hold and display the bonds allocated to the user. There will be no account opening charges or commission fee of any sought. User will be able to invest in bonds with the help of UPI or Internet Banking.
RBI Retail Direct Scheme Video
What is RBI Retail Direct Scheme
RBI Retail Direct Scheme allows retail investors to buy and sell government securities also called G-sec, online both in the primary and secondary markets. According to details provided by RBI, these small investors can now invest in G-Secs by opening a gilt securities account with the RBI. The account opened will be called Retail Direct Gilt (RDG) Account.
How to Open RDG Account
A retail investor can open the RDG account if they have following:
Rupee savings bank account maintained in India
PAN issued by the Income Tax Department
Any official valid document such as Aadhaar, Voter ID for KYC purpose
Valid Email ID
Registered mobile number
Love Reading Books? Here are some of the Best Books you can Read: (WITH LINKS)
RDG – Retail Direct Gilt Account Opening Process
Investors can register on the online portal by filling up the online form and use the OTP received on the registered mobile number and email ID to authenticate the information. Upon successful registration, 'Retail Direct Gilt Account' will be opened and details for accessing the online portal will be conveyed through SMS/e-mail.
RDG Account shall be available for primary market participation as well as secondary market transactions on NDS-OM.
Official link to open RDG Account: https://www.rbiretaildirect.org.in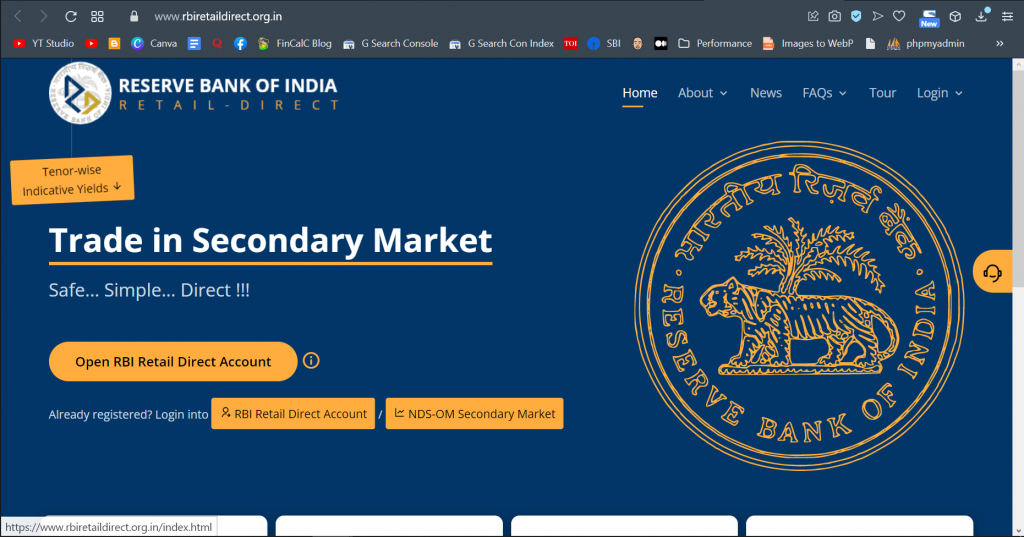 Investment Markets for Bonds
Once the account is opened, retail investors can buy government securities in the primary market, where government bonds are issued for the first time or buy/sell the existing government bonds in the secondary market.
Registered investors can access the secondary market transaction link on the online portal to buy or sell government securities through NDS-OM.
User can use UPI or Internet Banking to complete the payments.
ALSO READ: SIP & Lump sum returns excel calculator [Mutual Funds]
Benefits of RBI Retail Direct Scheme
Below are some of the benefits of RBI Retail Direct Scheme:
Diversification in your investment portfolio due to investment in bonds
NRI can also invest un RBI Bonds
No account opening charges
No commissions on buying or selling bonds
Good interest rates in the range 6.5% to 7%
Online access of your account to buy and sell bonds
Charges of RDG Account
As per RBI, no fee will be charged for opening and maintaining RDG – Retail Direct Gilt Account. Further, no fee will be charged by the aggregator for submitting bids in the primary auctions. However, any payment gateway charges will be borne by the registered investor, as applicable.
ALSO READ: Public Provident Fund Excel Calculator
Conclusion
With the introduction of RBI Retail Direct Scheme, it will be very easy for users to buy, hold and sell bonds. NRI can also invest in these schemes to get good interest rates compared to the rates in western countries. Also, you should have some portion of your investments in bonds to diversify your portfolio which makes this RBI Retail Direct Scheme attractive.
Some more Videos